If you've ever made banana bread, you know how easy and delicious it is! There are few ways to get your whole house to smell as good as it does when you are baking a loaf of homemade banana bread. But, as easy as it is to make, there are some things to consider in order to make it worth the effort! For one thing, should you keep banana bread in the fridge or pantry after you've baked it? In this post, we'll tell you exactly what you need to know to keep your loaf fresh and tasty for as long as possible! Plus, we have a tried and true easy banana bread recipe that we have been using for years that you'll just have to try for yourself!
Okay, so you've mashed your overripe bananas, mixed your ingredients until there are hardly any lumps, lined your baking dish with parchment paper, baked your loaf for the perfect amount of time, and have been rewarded with a golden brown and oh so delicious finished product! But now what?!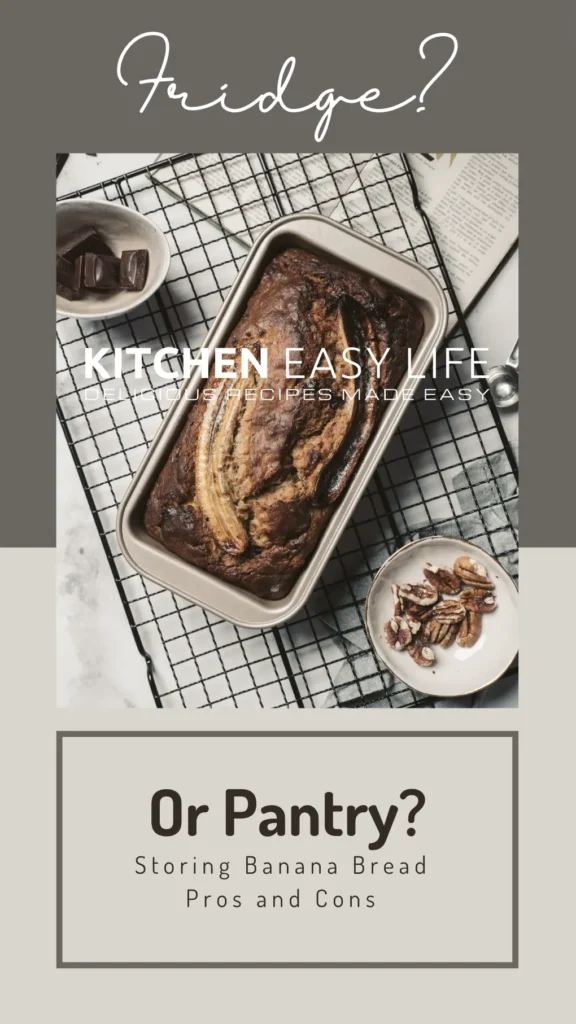 You've baked your bread, but how do you store?
How do you ensure that your banana bread doesn't go stale or start to rot before it can be finished off? That has never been a problem in our family as we have three kids and can devour the loaf in about an hour! But, I can understand that some families might need to store their banana bread for a day, two days, even up to four days.
For the record, I wouldn't store it past four days. It can get pretty hard at that point. Plus, it just doesn't have the preservatives that store bought items have, so it probably wouldn't be safe to consume after four days anyway. But, for those 1-4 days, should you keep banana bread in the fridge or pantry?
Ultimately, it's up to you. It's actually fine to keep it at room temperature in the pantry or on the counter for up to 4 days. It's also okay to leave it in the fridge for up to 4 days. Here are some pros and cons to both locations so that you could decide what you're comfortable with.
Fridge Pros:
Food temperature is kept low so that bacteria doesn't grow as quickly.
You can be more sure that nothing else comes in contact with the bread while it's in the fridge.
Wrap the remaining bread tightly in plastic wrap and place in an airtight container to maximize freshness.
Fridge Cons:
Being at a colder temperature seems to take away some of the taste of the banana bread. Definitely let the bread come to room temperature before consuming to bring back some of the taste.
Bread can kind of change texture in the fridge and become a little dense or squishy. Make sure it's tightly wrapped. This protects the texture a bit and can keep out other fridge smells from seeping into the bread. Onion banana bread anyone?! Yuck!
Pantry Pros:
Texture and taste are not changed the way they can change in the fridge.
Bread is at perfect temperature to eat right away without waiting.
Color stays the same and doesn't darken the way it can in the fridge at lower temperatures.
Storing in the pantry or on the counter is easy. Just place a paper towel or clean kitchen dish towel over the bread. No need to tightly wrap.
Pantry Cons:
Does get harder more quickly, especially if it's already sliced. Place the sliced side down on the plate or pan that you are storing it on to reduce the fresh cut side from hardening too quickly.
You never can be too sure if a bug has crawled on it in the night. That's always been one of my concerns with leaving baked goods out. My solution is too place the dish under a cake cover or just put the dish in the microwave (but don't turn it on!).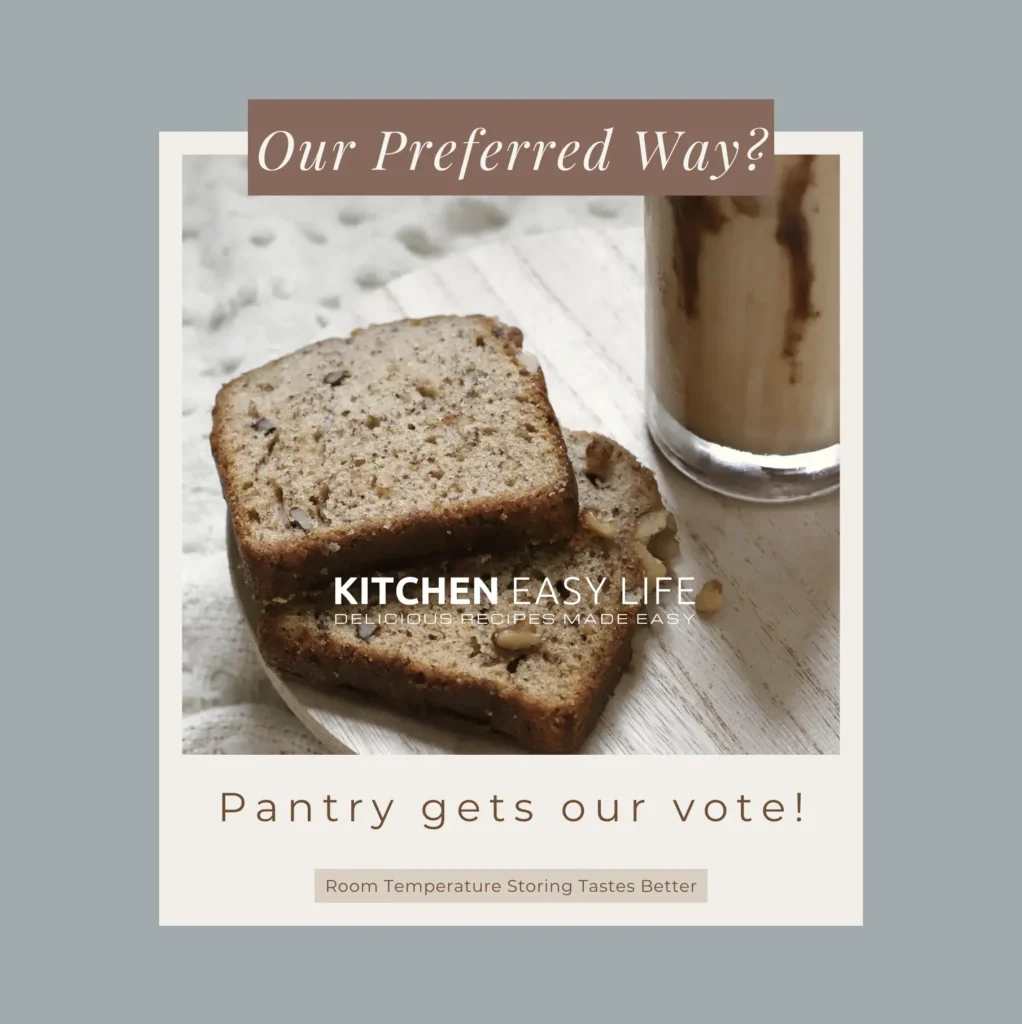 As you can see, there's really no right or wrong way to store banana bread. Based on these tips and recommendations, you can make your own decision on how to store your lovely banana bread. Now, why don't you practice those storing skills with our family's all-time favorite easy banana bread recipe!
Easy Banana Bread Recipe
Course: Breakfast
Cuisine: American
Difficulty: Easy
Who doesn't love the sweet, comforting aroma of banana bread baking in the oven? 🍌🍞 If you're in a pinch for time but craving this classic treat, I've got a fantastic easy banana bread recipe that you can make in one bowl!
Ingredients
3 ripe bananas, mashed

1/3 cup melted butter

1 teaspoon baking soda

Pinch of salt

3/4 cup sugar (1/2 cup if you like it less sweet)

1 large egg, beaten

1 teaspoon vanilla extract

1 1/2 cups of all-purpose flour
Directions
Preheat your oven to 350°F (175°C), and butter a 4×8-inch loaf pan.
Mix the melted butter with the mashed bananas in a mixing bowl.
Stir in the sugar, beaten egg, and vanilla extract.
Blend in the baking soda and salt.
Gently fold in the flour, but don't overmix!
Pour the batter into your prepared loaf pan.
Bake for about 50–60 minutes. Check with a skewer or toothpick – it should come out clean.
Cool in the pan for a few minutes, then transfer to a wire rack to cool completely.
Notes
Overripe bananas make the best banana bread. They're sweeter and mash easily.
You can add nuts or chocolate chips for an extra twist!
If you're short on time, use a hand mixer to blend the ingredients more quickly.
Craving more delicious recipes? Click for more!